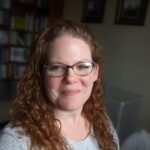 Education
Master of Arts in Counseling Psychology, Pacific University, 2007
Bachelor of Arts in Psychology, Reed College, 2003
Clinical Certification in ADHD Services, 2022
Certification in Divorce & Custody Mediation, 2015
Clinical Certification in Thanatology, 2009
Background
Group Coordinator at The Dougy Center
Camp Erin Clinical Coordinator/Children's Bereavement Coordinator at Providence Hospice
Camp Sunrise Grief Camp Clinician
Reed College Counseling Center Intern
Pacific University PSC Intern
Oncology Clinical Trials at OHSU
Orientation
Research has repeatedly shown that it's not the theoretical orientation of the therapist that has the greatest influence on therapy outcomes, but it is truly the connection between the client and the therapist that makes the difference. It really is this simple. Thus, even though there are many different schools of therapeutic thought, all good therapists share certain basic qualities: the ability to listen, to empathize, and to symbolically walk beside the client along his or her path.
In addition to possessing those basic qualities, my theoretical orientation is essentially cognitive-behavioral in nature. This is a research-based, goal-oriented, systematic procedure that aims to influence both simple and challenging behaviors. I also integrate techniques from many different theories of counseling. I believe that the smallest, simplest act has the possibility to produce great change. Even the most difficult problem can be transformed by a minimal shift in focus or slight change in perspective. I am committed to your individuality and will work with you to determine the best possible treatment method, intervention or approach to address your therapeutic needs.
Specifically when working with children, I use play therapy approaches. Often times, children don't have the language to express themselves and play is the way for a child to project their inner thoughts, feelings, and experiences into the play world they create. I believe that healing comes from within and my approach is both research-based and holistic.
I believe in the unity of the minds and body and feel that our bodies communicate to us. I hope to encourage you to follow your own instincts and to trust your inner wisdom.